Latest News
05/06/2013
Hi there,
Just a quick update from us to let you all know that we are now adding tracking information to your orders. This can only be done after your order has been shipped and of course some of you may (if you're lucky and Royal Mail/FedEx are playing ball?) receive your orders before the tracking is uploaded, but we are sure you will appreciate the information regardless!
We now have a 'Track Your Order' facility on our home page here...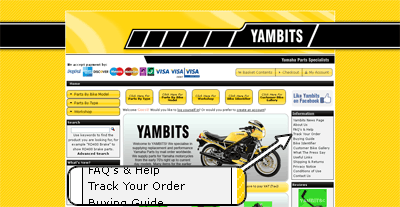 Simply copy and paste the tracking reference number from your shipped order record into the relevant delivery service and submit.
As ever, if you have any problems, queries or comments please email us at sales@yambits.co.uk and enjoy your bikes this summer!
The Yambits Team
20/02/2013
Hello to all of our customers once again!
Spring is on its way so it is time to get your bikes out and get them ready for the Summer! If you have not already done so you are more than welcome to send in a photo of your bike for our gallery. Some are also posted on our Facebook page which is proving rather popular with customers around the world.
Postage Requests
There seems an increasing number of customers wanting special delivery instructions eg. Leave in shed, or with neighbour etc. Unfortunately we cannot put notes on the parcels. As every order is sent on a 'Signed For' service either select a shipping address where the parcel can be signed for or leave a note at your property for your post person to try elsewhere. Remember, we can only deliver to the shipping address you supply, so please ensure it is correct... Thanks!
VAT
Customers outside of the EU do not have to pay VAT (Sales Tax). There is a link to this information on our homepage under the photo of the bike. VAT is removed from the purchase once you are taken through the checkout process. Until you have gone through the checkout process our system cannot recognise where you reside by your post code/country. If you are located in Europe and have a VAT number, this can be entered in your account details and VAT will not be charged. For more details see our FAQ section.
UK Mainland Buyers
To purchase paint or an item with a shipping restriction you must log in first to purchase it. Only UK Mainland customers can purchase aerosols.
Our website is currently having some tweaks behind the scenes and although most of the work you will not see, there will be some new features unveiled soon.
We are of course still adding new items daily, so don't forget to check our 'What's New' link on our home page too! All items have a full description (simply click on the item headline to view the description), so please remember to check the item is suitable for your model and year of bike before purchase. If you are unsure of your model simply use our 'Bike Identifier'.
Once again we hope you have found what you are looking for and are pleased with your purchases.
The Yambits Team
27/07/2012
Hello again to all of our customers! We hope you have found the parts you require and have been pleased with your orders.
Many thanks to all that have contributed to our 'Customer Bike Gallery' and our Facebook page since our last newsletter. Summer is supposedly here so get your bikes out in the sun and send in your photos!
With new items being added daily we wanted to let you know that we now have RD250/400 rear master cylinder repair kits back in stock and also a new range of a more compact Dial Gauge Timing tool!
Due to the recent price increases by Royal Mail, we are going to have to revise all of our shipping rates. However, we have negotiated a new contract with Fed-Ex so many heavier or more valuable orders should be more competitively priced in the near future. We hope to switch to Fed-Ex by the end of next week.
Don't forget to use our 'Bike Identifier' if unsure of the exact model you have. We are more than happy to look it up for you to ensure you order the correct parts.
18/06/2012
A big hello to all existing and new customers too! As usual, we hope you are finding the parts that you require or are using our email service for enquiries. We do our utmost to help if we can!
Our new 'Customer Bike Gallery' is filling up nicely — over 60 photographs now! So a big thank you to everyone all over the world who has contributed so far. I'm sure many of our customers (as we are) are enjoying seeing what can be achieved before and after a restoration or even something different like a 'Cafe Racer' conversion... Thanks to Glyn McDonald in Australia for that rather stunning RD400C example of a Cafe Racer — it just shows what can be done! Danny Molloy's RD500 restoration was truly amazing — did you see the engine photo before the restoration? Now that is pure dedication and we are proud to have supplied most of the engine rebuild parts. Yamaha owners have their own ethos as to why they have the bike in the first place, this should be respected at all times whether it be for show, daily use or something fancy — each to their own and it certainly adds variety to our gallery for all to enjoy and hopefully inspires you all.
We've added a widget to our website that now allows all customers to view the shipping charges as they add items to their basket — we now hope this is of help to everyone. All postage rates are based on the items weight, we do not profit from shipping. Remember; until you pay there is no obligation to purchase!
We are still having problems with customers shipping addresses! Please ensure you check your account and the shipping address you provide through every step of the payment process however you pay — thanks!
We now also have a new Facebook page — be sure to check that out and give us a 'Like'!
Dave and I have been adding items nearly daily (time and 'having a life' permitting), so with over 19,000 parts now, be sure to check out our 'New Items' regularly.
18/04/2012
Welcome to all of our customers since our last newsletter.... We hope you have found what you are looking for and are pleased with your purchases!
We have recently had some issues with customers shipping addresses being incomplete. Please ensure you check ALL the details are correct in your customer account address book entries and also your Paypal account if necessary before and during payment. Your contact details are vital and must be correct because if there is a problem with your order and we cannot contact you via daytime telephone number or email then your order will be held until the problem is rectified. All contact details that you provide are only used by Yambits and are NOT passed onto 3rd parties for marketing etc.
Checkout Process Issue:
Immediately after payment you are taken back to our website where you must click Confirm Order. If this is not done then we will not receive your order and no payment will have been taken. A full guide of how to pay is in our Buying Guide.
We have now unveiled a new Customers Bike Gallery and if you wish to send us a photo of your bike to be included in our gallery please follow the link on the home page or click here.
We also now have a Bike Identifier service for registered customers to use. As we have the full Yamaha Engine/Frame code list we can easily identify your bike so that you can purchase the correct parts for it. There is a link on our home page or simply click here.
With approximately 17,000 items on our website now we are still adding new parts on a daily basis. We have many new parts being re-made/manufactured as well so keep an eye on our New Items! If you cannot find what you are looking for simply email sales@yambits.co.uk and if we have it or can source it we will add it to our range as soon as possible.